Tim Wiens
President
As president, Tim believes in the value of continuous learning and improvement, which is the strength of the O&T team. A fellow of Quantum Shift at the Ivey School of Business, he is active in industry organizations and in the community. He is currently Chair of the Saskatchewan Trade and Export Partnership (STEP) and is a former member of The Executive Committee (TEC). Tim continues to focus his leadership efforts on creating a team dedicated to agri-value. He strongly believes the company's ground-breaking nutrition in Omega-3 energy in animal protein will enhance human health.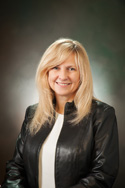 Elan Ange
Chief Executive Officer
As CEO of O&T Farms, Elan believes that success is achieved through collaborative and profitable relationships with employees, customers and suppliers. Her 20-year history with O&T in finance and operations, along with her ability to build on the company's vision, has prepared her to lead the company into the future. Elan is member of the Advisory Board for the Kenneth Levene School of Business at the University of Regina, where she received her MBA. In addition, she is a Director for CanMar Grain Products Ltd., and past Director for Saskatchewan Trade and Export Partnership (STEP). Elan has been a member of The Executive Committee (TEC/Vistage) since 2008.
Rob Dreger
Director Sales and Marketing
Rob is a graduate of the University of Manitoba with a B. Comm. (Hons.), enhancing his education by attaining his Chartered Accountant (CA) designation in 1992 while articling with KPMG. Rob joined O&T Farms to assist the company with its sales and marketing development of the specialty Omega-3 feed ingredient LinPRO. Rob is familiar with the various facets of the business environment and has experience in food and business development.