Developmental programming has the greatest application potential for modern chicken production to help meet changing and growing global market demands.
The concept of developmental programing refers to the ability of specific exposures during pre- and early life to result in epigenetic changes that may impact the development, health and production potential of the offspring.
 For example, the availability of a specific nutrient in chicken feed – such as omega-3 fatty acids – can result in profound trans-generational effects on the production potential and health of the progeny.
Understanding the implications of these exposures will support the advancement and sustainability of modern poultry production practices.
In collaboration with the University of Guelph's Dr. Elijah Kiarie, O&T Farms is supporting a series of research studies that investigate the impact of feeding linPRO, as a source of omega-3 fatty acids, to broiler breeders and the subsequent impact on progeny performance. 
 1. Effects of Feeding Broiler Breeder Hens linPRO with or without a Multienzyme Supplement
The quality of broiler breeder nutrition has the ability to influence chick quality and growth performance, with dietary lipid sources being of particular importance. Dietary fat components within a broiler breeder's diet influence the fatty acid composition of the egg yolk. These fatty acids play an essential role in prenatal and postnatal development of the chick. Because omega-3 fatty acids play a role in membrane and immune system development, there is growing interest towards increasing yolk concentration of these fatty acids to support chick development.
Although linPRO is commonly used in both commercial layer and broiler operations as a source of dietary omega-3 fatty acids, the nutritive value of this flaxseed-based feed ingredient for broiler breeders had not yet been established. Traditionally, broiler breeder hens are restricted fed to control their predisposition for rapid growth which can result in different digestion capabilities compared to ad libitum fed birds. To ensure accurate feed formulations and to better predict omega-3 deposition into the egg, it was necessary to determine the nutritive value of linPRO in broiler breeder hens.
The objective of this study was to evaluate the effects of feeding linPRO to broiler breeder hens on the nutrient utilization and enrichment of yolk with omega-3 fatty acids.
Results from this study reported maintained egg weights with increased levels of the fatty acids ALA and DHA in the egg yolk of hens fed the linPRO product. These data suggest a high capacity of broiler breeders to convert ALA to very long chain omega-3 fatty acids such as DHA.
The broiler birds fed the linPRO product showed improve apparent metabolizable entery despite lower retained dry matter and protein, compared to the control diet. Additionally, the addition of multienzyme supplement to the linPRO diet did not influence nutrient utilization or fatty acid deposition into the yolk.
Complete details of this study have been published in Poultry Science and are available online through the following citation link: https://doi.org/10.1016/j.psj.2019.12.062
 2.Trans-generational Impact of Dietary Omega-3 Fatty Acids on Growth Performance and Breast Yield in Broiler Chickens
A common challenge among hatching egg producers is developing strategies to improve the performance and yields of chicks from younger breeder hens. Dietary lipids play an essential role in perinatal growth and development, enriching broiler breeder diets with functional omega-3 fatty acids may improve chick quality and growth performance.Therefore, feeding linPRO as a source of omega-3 fatty acids to breeder hens may support improved chick performance from younger breeding stock.
The objective of this study was to determine transgenerational impact of feeding linPRO to broiler breeders during either the rearing or laying phase on the subsequent 42-day breast yield of progeny
Results of this study are not yet published; however preliminary data are promising. Initial results from this study reported improve chick weights and progeny breast yield from breeder hens fed a source of omega-3 fatty acids. When linPRO was fed to 34-week old breeder hens during either the rearing or the laying phase, initial chick weights improved by ~5% compared to the control. Furthermore, the overall progeny breast yield from hens fed linPRO during the laying phase increased by ~10% compared to the control over a period of 2 hatches.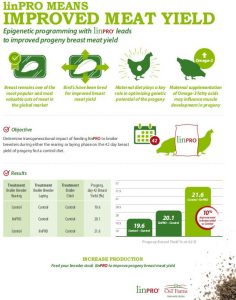 For more information on this ongoing researhc initiative, be sure to watch PhD candidate Aizwarya Thanabalan's internview in the video below. 
As the project continues to progress, more data and updates will be made available on this cite.
Last Updated: April 1, 2020